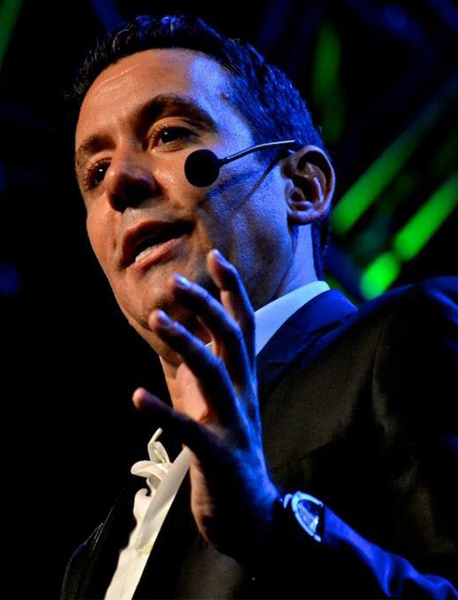 Greg Secker
Greg is an entrepreneur, philanthropist and international speaker. Greg is the owner of Learn to Trade, a global trading education company (www.learntotrade.co.uk), SmartCharts Software, the latest in trading technology, and Capital Index (www.capitalindex.com), an exciting new city brokerage firm. Greg is the founder of the Greg Secker Foundation a not-for-profit organization committed to positively improving the quality of life for children around the world
Greg's career began in Thomas Cook Financial services. He then moved over to the foreign exchange business to run a brand new business entitled the Virtual Trading Desk™. VTD was the first online real-time Forex trading platform, allowing customers to receive real-time quotes for huge foreign exchange transactions. His career quickly progressed and he went on to be a Vice President at Mellon Financial Corporation, then a major Fortune 500 investment bank in the United States. Here he was lucky enough to be working around some of the very best traders in the world. Using the very same trading strategies discovered on his travels around international trading floors, Greg's personal trading account grew to the extent where he decided to leave Mellon and set up a trading floor from his home. In just 3 short months Greg's company Learn to Trade was born. In the past 9 years, more than 100,000 people have attended his various trading seminars and workshops across the world, where they learn how to produce a second or replacement income trading the stock and currency markets.
Greg was a prized finalist position in the 2010 London Excellence Awards, and the company claimed 49th place in the 2010 Sunday Times Fast Track 100 Awards- a Sunday Times initiative co-sponsored by Virgin that recognizes UK's Fastest growing companies. Learn to Trade has been awarded Best Educator by World Finance Magazine for two consecutive years.
Greg has spoken on most major market channels including CNBC and Bloomberg. Now an internationally recognized speaker, Greg is regularly invited to speak alongside renowned personalities such as Robert Kiyosaki, T Harv Eker, Anthony Robbins and many others. Greg has shared the stage with Tony Blair at The National Achievers Congress in Asia and has spoken alongside a dozen 'Success All-Stars' including Richard Branson on a number of occasions.
Greg's most recent entrepreneurial achievement is the launch of SmartCharts and Capital Index. SmartCharts is the latest in trading software technology innovation. SmartCharts simplifies the trading process by adding a level of interactivity, functionality, performance and ease of use never before seen on other trading platforms. The software scans and finds trade setups for you, taking all the legwork out by allowing you to place a trade in just one click. Capital Index is a regulated broker which offers fast trade on Forex, CFD, Futures and Indices. They give you access to advanced FX charting technology coupled with sophisticated order-management tools help you to monitor and control your positions quickly and efficiently.
In 2011 Greg set up a charitable Foundation, a not-for-profit organization committed to positively improving the quality of life for children around the world. Focusing on education, life skills and youth leadership initiatives the foundation strives to equip young people with the essential building blocks of life. The Foundation is changing lives through its various programs: The Christmas Basket Brigade, Youth Mentoring Program, Early Childhood Development Program (South Africa) and the Flying Trader Project. It has also worked with Virgin Unite on projects in South Africa. Most recently Greg travelled to the Philippines to assist with a Foundation project to rebuild homes for those affected by typhoons and cyclones. All the programs aim to better the lives of children and the less fortunate.
01 (998) 8022921
ventas@premierecontact.com
eventos.premierecontact.com
Descargar Biografia
Sesiones de Greg Secker